Ever wanted an affordable cheap 1911 platform for a beginner that allows you to get a good feel of the 1911 platform?
Well, you don't have to wait longer.
The GSG 1911 is a 1911 full-size pistol chambered in 22Lr produced with the magnificent precision of German engineering for a wonderful shooting experience for every type of shooter.
GSG 1911 is a perfect choice for every kind of shooter. It meets the requirements of a beginner and an IPSC competition shooter.
This 1911 configuration is very lightweight. It also comes with a lot of standard great features like a skeleton trigger and the ability to choose from 2 kinds of beavertail grips. It has a black synthetic grip and a moduled wood composite grip.
The standard model weight is 34.39 ounces with an 8.58" total length. It is manufactured in Germany from GSG.
GSG company is mainly focused on producing guns that are chambered on 22LR, mainly intended for sport shooting. The guns this company produces are mainly replicas of some of the most military-used firearms but they are available for civilian use due to the cartridge they are chambered on.
GSG also makes airsoft replicas of exceptional quality.
GSG 1911 spec
Calibre: .22 LR HV
Length: 218 mm
Height: 140 mm
Width: 36.5 mm
Weight: 0.975 kg
Slide material: Zinc alloy
Slide Finish: Black Anodized / Green / FDE / Polished
Frame material: Zinc Alloy
Barrel length: 127 mm
Barrel Material: Steel
Rifling length: 406 mm
Number of grooves: 6
Sight length: 136 mm
Trigger pull: 1.900-2.500 g / 19-25 N
Material of trigger: Aluminum
Trigger design: 3-hole Skeleton
Magazine Capacity: 10
Sights: Low profile fixed rear sight, Includes 3 front sights (Low, Medium, High)
Grip: Double Diamond pattern
System: Single-Action
Thumb safety: Ambidextrous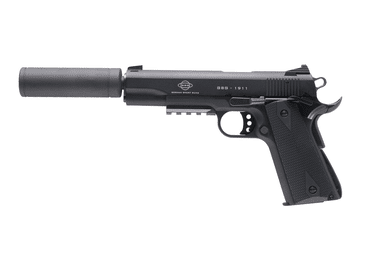 Accessories
Well, the good news is that 80% of the GSG 1911 parts are compatible with the normal M 1911.
If you are thinking of putting a suppressor on it you can buy a SilencerCo Gsg1911/22 adapter without a problem. This will turn the internal threads of the pistol into suppressor friendly 1/2×28.
Or if you would like to change your sights, there are different choices on the market, such as GSG 1911- Red Dot mount which allows you to attach Vortex sights or Venom ones and also the Viper red dots. If you want to run with a slide-mounted red-dot this is the option to go for as it doesn't require any alteration. The mount doesn't interfere with the cycling process and it will keep the sight placed as close to the barrel as possible. But if you are using other sights like Burris FastFire it will require some adaptation for it to have a perfect fit.
You can choose from a wide range of conversion kits like the Aluminum made QWA conversion kit, which is a tool-less installation kit.
In addition, the XO-Pro slide made from 7075 aircraft Aluminum with a unique type 11 anodizing Brite Dip that gives a magnificent gunmetal grey finish that is harder than Cerakote. This slide makes your GSG 1911 compatible with Burris FF3 sight or the Sig Romeo1, Vortex Venom and Viper. It will accept the factory GSG sights or the CWA adjustable sights as well. 
Kits
You will find tons of performance enhancement kits like replacement for the factory barrel and go for something fancy as a carbon fibre finish barrel. In need of some more accuracy and recoil control, you can have an EXO-Compensator. So you can choose even between the different grips available on the market which are M1911 compatible. Different guide rods with a titanium spring plug and shock buffs as well.
There is a wide range of spare part kits to choose from. There are different gun shops that can take your GSG1911 and transform it into a totally aftermarket-based costume build.
This customization is mostly required for professional competitive shooters. In some cases, even from some people who like to spend a little more and go for something fancier, but they're tight in the budget for a full-sized costume build M1911 chambered in 45ACP.
Considering all the qualities of this gun there is not much to say about it contrary to the GSG 1911 because it is an excellent gun fitted for pro-shooters as well as for beginners.
GSG 1911 Con's
The only issue that some users have reported is that they have to run good ammo on the gun. Good ammo includes mainly high-velocity ammo like Remington Yellow Jacket or Stingers etc.
This was an issue on some of the early models due to the fact that you have to pick the ammo you have to run. It meant that sometimes you might not have access to good ammo. That would become a serious issue for the buyers.
Some shooters say that after putting the gun through heavy shooting (7k-10k rounds) the guide rode might break down or have some issues with the slide stop. This used to happen on the early models but on the recent ones these issues were fixed.
Other than these issues the early models of GSG are wonderful guns to have.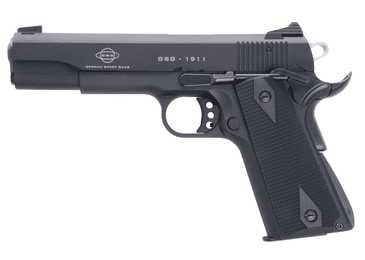 GSG 1911 Advantages
The GSG 1911 is an excellent weapon. It's fun to shoot with and the perfect practice gun. It is definitely something that you should have down at the range.
Built with high quality in mind, it has easy access to a wide range of customizations and aftermarket parts and costume builds as well. With the new models, you can run any kind of ammo, even subsonic ammo that initially were a bit of an issue on the earliest models because they would fail to cycle the gun and eject.
Maybe it will not become an everyday carry gun, but it will be a wonderful gun to have on your arsenal. It comes with a ton of fun and excitement to shoot at the range due to the precision.
The nearly nonexistent recoil makes it even more pleasant to shoot. Especially if you are new to the gun world, you will have the luck to shoot a 1911 and enjoy it. Get that fun and special feeling that the 1911 gives you.
The M1911 platform has been in use for decades because of the perfect combination of precision and reliability. That was the reason why it was widely used in the military. The GSG1911 gives you the opportunity to have the same gun and a lot more.